Is Flood-Damaged Flooring in Suffern Homes Unsalvageable?
9/7/2021 (Permalink)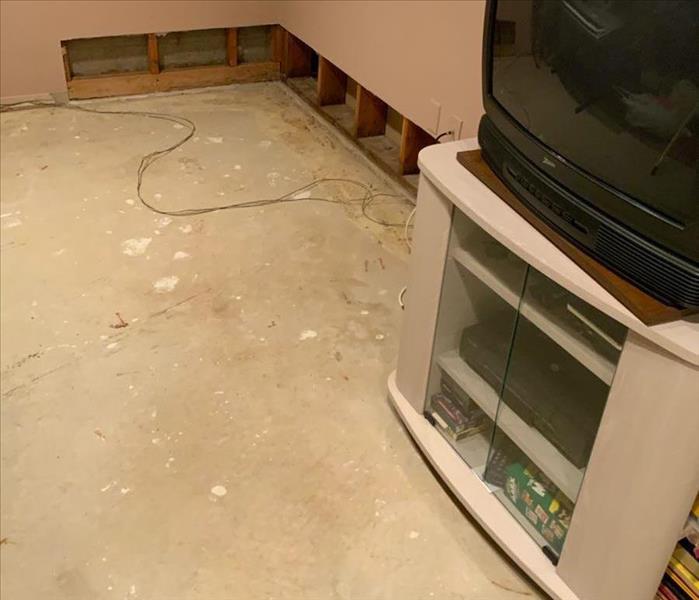 Flood and storm damage remediation is no DIY project. Call SERVPRO for fast and immediate service for your home or business.
Cleaning and Drying Flooded Suffern flooring Can Prevent Unnecessary Tear-Out.
Flooding can overwhelm homes and businesses, pooling on the floors and absorbing into their components. Cellulose in wood planks can promote saturation, while carpeting is a highly porous flooring option that becomes a challenge to dry and clean. Our SERVPRO team works to overcome immediate absorption concerns with water removal and drying tactics.
What Are the Best Ways to Remove Water from Floors?
There are several immediate and formidable obstacles that exist following flood damage in Suffern homes and businesses. Mitigation is often one of the most vital phases of restoration and recovery to protect the house from further harm and destruction. Removing standing water can be one of the main emergency services we offer, covering exposed materials that could contact pooling water and absorb this moisture. Vacuuming and pumping are primary approaches for our water removal services.
When is Flooring Unsalvageable?
Inspecting installed materials can often indicate when drying and cleaning the building elements is no longer feasible. Physical signs of degrading hardwood, vinyl plank, and carpeting show when tear-out is the only remaining option. Some of the indicators for this include:
Warping
Distorted seams
Bloating
Controlled Demolition and Reconstruction Solutions
While our SERVPRO team intends to avoid demolition and reconstruction needs whenever we can, having a general contractor license makes the fast transition for these repair needs possible. Hardwood and carpeting are both potential candidates for removal and replacement for cost-efficiency when floodwater exposure occurs.
Flooding can leave many of your house's structural elements and installed materials exposed to water and contaminants. As challenging as cleaning and drying might be, our SERVPRO of Southern Rockland County team can help to make these emergencies "Like it never even happened." Give us a call today at (845) 400-4888.