Winter Weather Worries
11/4/2020 (Permalink)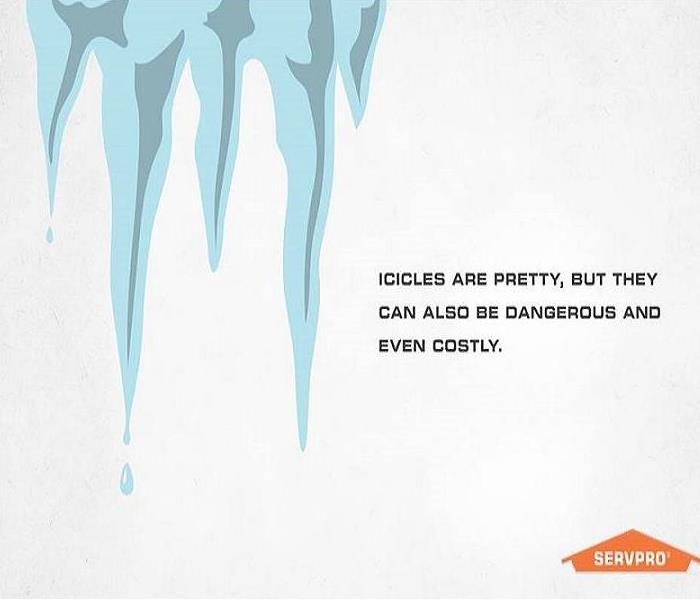 Winter weather and temperatures falling below freezing in the Rockland County New York area can bring about home water damage issues such as frozen pipes and ice dams. These damages are costly to repair and in most instances can be prevented.
Frozen Pipes
Frozen pipes are not only those exposed to the cold weather, such as outdoor pipes, but also pipes in cold areas like basements, attics, garages and kitchen cabinets. A frozen pipe can burst at the point where the ice blockage inside the pipe is located, but the rupture is caused by the backflow pressure between the water source and the blockage. A burst pipe can cause considerable damage to your home if not properly and quickly fixed.
According to The American Red Cross here are some tips to prevent pipes from freezing:
Drain water completely from swimming pool, sprinkler system and outside hoses.
Open kitchen cabinets to let warm air near plumbing.
In extreme cold, let water drip from faucets that may come from exposed pipes.
Keep your heat set at the same temperature day and night. The temperature should not be set below 55°f
Ice Dams
Ice dams can cause major damage during the snowy season. They form when heated air melts roof snow downward into water dammed behind still frozen ice. When the trapped water cannot run into the gutter system, it can backflow under the roof's shingles and into the structure's interior areas, as well as causing gutters and shingles to move or fall. Icicles can be an initial sign of an ice dam, (source Travelers.com) check for water stains or moisture in your attic or along ceiling of exterior walls in your home. These are indicators that ice dams have occurred and water has penetrated the roof membrane. Remove the ice dam quickly to prevent major water damage to your homes exterior and interior. Using heated cables, a roof shovel, or calcium chloride ice melt can be used to alleviate the ice dam problem.
If winter weather causes water damage to your property, SERVPRO of Southern and Eastern Rockland County has trained professional technicians ready to restore your property.